CITIZEN X
Jean-Paul Bourelly – guitar and sampling,
Sadiq Bey – vocalizing, electronics
"It all about power in the darkest hour… ain't no free ride if you want to glide on it" says Bey on the piece Sacred.
CITIZEN X moves towards the cinematic sense of music and the freedom to navigate beyond sonic bounderies. Inspired by the revolutionary 60's of Detroit, Chicago and Los Angeles, marinated over time, Citizen X finds a new voice in the theatre of today's globalized one-world growing political consciousness.
The group moves through a landscape filled with a sense of spirituality, atmospheric sound bytes punctuated by waves of guitar motion and observant commentary on today's tumultuous world. Cadillac Eldorados, Sun Ra's Arkestra and names like Amiri Baraka, Fred Hampton and Huey P. Newton come to mind in a blend of black-a-delic consciousness, bringing a sense of proximity to both danger and beauty.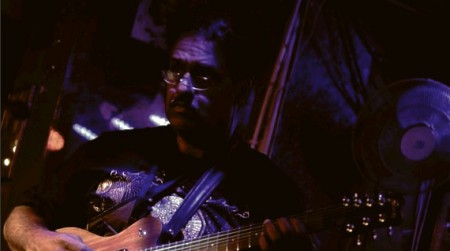 Jean-Paul Bourelly summons his Chicago roots playing with some of the south side's most adventurous figures like Phil Corran, Pete Cozey and formed his outlook on music. The city was blazing one night and the next day everything was gone. So was the 60's in the heat of social change.
Sadiq Bey began his social investigation with performance and poetry in post-insurrection Detroit's experimental music scene with artists like Faruq Z. Bey, Kenny Cox, poet Dudley Randall and drummer, Roy Brooks.
Formerly known as the front man for Don Byron's NuBlaxploitation, Tuskegee Experiments, The Othello Syndrome with pianist Uri Caine and
his own project, Fire in Zeroland (a Tribute to Sun Ra). In 2008 he received the Berlin Studio Project Award for his electronic/acoustic recording Slow the Ear (Allzeit Musik).
BOOKING
CONTACT
---
CITIZEN X (DEUTSCH)
Diese neu formierte Gruppe appelliert an den filmischen Sinn für Musik und der Freiheit sich jenseits von herkömmlichen Kategorien zu bewegen. Inspiriert durch die revolutionären 60ger von Detroit, Chicago und Los Angeles bewegt sich Citizen X durch eine mit Sinn für Spiritualität und atmospärischen Soundbytes gefüllte Landschaft – unterlegt mit weit reichenden Gitarrensounds und observierenden Kommentaren über die turbulente Welt von heute.
Cadillac Eldorados, Sun Ra's Arkestra und Namen wie Amiri Baraka, Fred Hampton und Huey P. Newton kommen sofort ins Gedächtnis…Jean-Paul Bourelly begann seine Karriere in Chicago, wo er mit Künstlern wie Phil Corran und Pete Cozey zusammenspielte.
Schließlich verschlug es ihn nach New York, wo er mit so namhaften Musikern wie Elvin Jones, Miles Davis und Pharaoh Sanders kollaborierte. Seitdem produzierte er bereits 14 CD's unter eigenem Namen, darunter Saints and Sinners sowie Boom Bop. Sadiq begann seine musikalische Laufbahn mit Poesie Performances in der experimentellen Musikszene von Detroit. Er arbeite mit Künstlern wie Faruq Z. Bey, Kenny Cox, Dudley Randall und Roy Brooks zusammen.
Darüber hinaus war er Frontmann für Don Byron's NuBlaxploitation, Tuskegee Experiments, The Othello Syndrome mit dem Pianisten Uri Cane und natürlich seiner eigenen Band namens Fire in Zoeland.
CITIZEN X
BOOKING
CONTACT
---